Viva Carnival – Saturday, January 28, 2018, 7.00pm at Living Arts Centre Mississauga
Celebrity Symphony Orchestra returns with a magnificent evening filled with carnival hits and world famous arias and songs conducted by charismatic Maestro Andrzej Rozbicki. This time the CSO presents SIAA-Foundation Young International Opera Stars from the different countries of the world, soloists of various European opera theaters.
Among participants of a concert are winners of such known as Plácido Domingo's competition Operalia 2016, a competition of the BBC Air Force Cardiff Voices and others. Many "SIAA-Foundation" singers perform today in the best opera houses in the world including La Scala and Metropolitan Opera in the season 2016/2017.
Soprano, Brigitta Simon – Hungary Soprano, Inma Hidalgo – Spain Mezzosoprano, Cassandra Wyss – Liechtenstein Mezzosoprano, Eglė Šidlauskaitė – Lithuania Tenor, David Jagodic – Slovenia Tenor, Sascha Emanuel Kramer – Switzerland Baritone, Juan Carlos Heredias – Mexico Baritone, Till von Orlowsky – Austria
And with Polish Special Guest: Karolina Podolak
Amazing singers from the different countries of the world will please LAC audience with performance of popular carnival hits – the famous arias, duets, trios and works of J. Strauss, F. Lehar A.L. Webber, L. Bernstein, W. Kilar and other carnival classics of the world including "Brunetki Blondynki", "Niech zyje bal" and "Bohemian Rhapsody".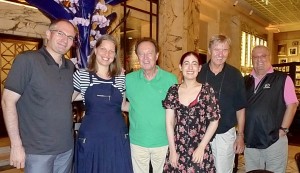 Click here to add your own text